Happy Wednesday! Today is my 300th post! Wow! Thanks for coming along with me every day on my journey!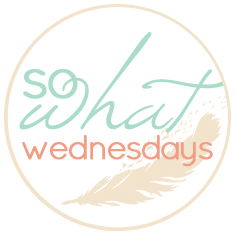 Today I'm saying so what if…
I think it's weird when people call themselves 'Mommy' or 'Daddy' to their dog. Sorrynotsorry, I'm a farm kid, dogs are pets to me, nothing more. If they die you go bury them in the back 40.
I let Brennan use hand soap to clean the bathroom sinks because he likes to and it saves me from having to clean it myself.
I haven't lost my pregnancy cravings for pickles. I shouldn't say I necessarily crave them, I just want them on a lot of weird things. I never sit here thinking I'll give my left pinky toe if only I could have a pickle.
I haven't had a pop (Mt Dew or otherwise) since Saturday. That's 3 full days without pop, people! Will I still be 'Erin' if I don't drink Mt Dew? I miss it, but have not had any major issues … yet.
This weekend is Father's Day and I gave Andy his gift a month ago and don't plan on getting him anything else. We will make him feel special all day and we will take him to his favorite place for lunch – Panchero's.
I can't get into the book 'Save Haven' by Nicholas Sparks because all I want to read is smut.
A quick update on yesterday's swim lessons – Brennan held up his end of the bargain and went all the way under water. Then it started thundering and lightning and we had to cancel the rest of the lesson. So Aiden didn't get a chance to go down the slide. They both got ice cream last night, though. And Aiden promised that today he would go down the slide. Let's hope we can have the lessons, they are calling for more storms today.
Have a great day!
Erin