I'm so so SO happy it's Wednesday, December 4th! I have a hair appointment this morning, and man did I need it!! My hair grows fast normally, but throw in prenatal vitamins and pregnancy and holy smokes, regrowth! I'm thinking of adding some red/warm browns in and getting the blonde hi-lights out –eek! Can't wait! I'll try to remember to have my stylist take a pic from the back so you can see it.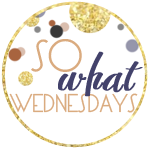 This week I'm dedicating my "So What's" to all maternity things. YES, I still love being pregnant, BUT I'm 29 1/2 weeks preggers and am hitting the point of finding things that are … annoying about being pregnant still. I am not complaining, just pointing some things out.
So what if…
I'm hormonal, which translates into bitchy and not going to take anyone's crap. Don't cross me, I'll bite your head off, chew it up and spit back out at you. You've been warned.
I'm tired of wearing pants that don't stay up. With every step I take they slide down a little further, then I have to hitch them back up again. And if my pants are creeping down, you know darn well my panties are too. Ugh.
I've resorted to letting Brennan put my socks on for me
I let, no, BEG Andy to help me take my shoes off. It's just easier that way.
Monday I was trying to tie my shoes by bending over at the waist (what waist?) and about passed out from cutting off my oxygen so had to hike my foot up to Andy's thigh so he could finish tying it for me … all in front of my in-laws
I've booted that damn body pillow out of bed and am comfortably sleeping on my stomach (sort of) and finally sleeping clear through the night again. Ahhh, heaven!
I'm already terrified of how HUGE my boobs will look without my big belly to balance it out once the baby is born
I'm also worried about finding a nursing sling to put these giant mama's in once baby is here. That puppy is going to be expensive! GIANT BOOBS I tell you!
I can't carry on a chatty conversation anymore because I get so out of breath – just from talking! Baby is high.
I feel so big already that I think I'll not leave the house starting in January because I feel a bit embarrassed about it. I know there isn't anything I can do about how big the baby and my belly are but I still feel a little/lot self-conscious about walking around with this big belly. I always get the "How much longer do you have?" question followed by the look of shock when I tell them not till February 16th. A simple "that will go by fast" is sufficient. Keep your dirty looks and rude comments to yourself until I walk away out of earshot.
Well, I could go on and on, but I'll stop there. I still love being pregnant, just some of the nuances are getting old. I keep telling myself "Only 10 more weeks, only 10 more weeks". And those 10 weeks will go fast, and then I'll miss being pregnant. But oh to hold this sweet little baby! To smell it's sweet little head. To kiss it's sweet little cheeks. To sit and snuggle it's sweet little self. Only 10 more weeks.
Love to all,
Erin