Hey!! Is this week flying by or dragging on, I can't decide! Either way it's been a good week, but I'm really looking forward to our weekend, lots going on!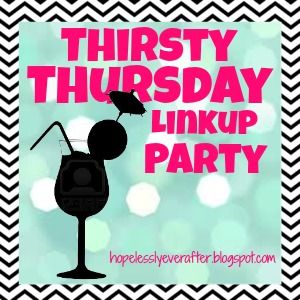 Today I am linking up with one of my new favorite bloggers, Brew Mama, for her Thirsty Thursday Link Up. Now, I am not much of a drinker, but I do have a couple of go-to drinks for those rare times I have a drink (ahem, St Louis).
Drink #1 – Amaretto Stone Sour. This is like an Amaretto Sour, but the 'Stone' part is adding in Orange Juice. I don't like Amaretto Sours but I do like this drink.
Drink #2 – Shirley Temple. This is a 7-Up with Grenadine added. And don't jip me my Grenadine, or I will send it back and ask for more! Who wants a diluted drink?
Drink #3 – My old stand by: MT DEW!!! Ha ha, how could I do a drink link up without mentioning my favorite drink of all?!?
---
I am going to tell you something that is a little nuts but I just have to share anyway (because you already think I'm bonkers since my dinosaur revelation was shared!). I like to spend time in cemeteries. For instance, when I worked at the bank in a small town I used to eat my lunch in the cemetery there. The one park in town didn't have any shade trees to park under, plus there were always people walking through there. One day I thought I'd go check out the cemetery, found shade trees to park under and it was QUIET, no one to bother me! So I started going there to eat my lunch!
This week, after Andy and I met for lunch, we hopped in the car for a quick drive around town, something we do often. All of a sudden I see an entrance to an old cemetery that is planted way back in a field. Of course I decided to drive back there! It was so perfect and quaint! If it wasn't for that other car that came back there we'd have sat there and enjoyed the beautiful weather for a little while.
And last night we went for a walk, right to the cemetery here in town. It's so peaceful back there! There's a cattle pasture right next to it, so it smells good and it's fun to watch the cows. I also love looking at the different headstones, the rich farmers spend their money on nice stones for their loved ones, with family pictures carved into them, or pictures of their farms. They are really neat!
So, as you can see, I do not enjoy cemeteries in a morbid, mean way. I enjoy them with appreciation for their beauty and peacefulness.
See you back here tomorrow! I have a special post planned so stop back by and check it out!
Erin