Happy Tuesday! It's a beautiful day in my neighborhood, sunny and going to hit 90 degrees today! Holy smokes! Because of the beautiful weather Brennan's class is having a 'pool party' for their last day of preschool this year. He was so darn excited, he got to wear swim trunks to school today!
I am linking up with some fun, crazy, amazing ladies today for their birthday link up.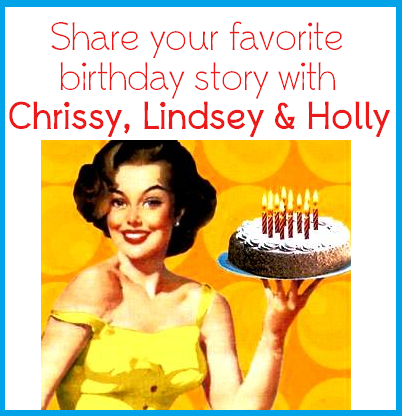 I hate saying one birthday story is my favorite because I love all of my birthday's (just not the getting older part). BUT! One that sticks out in my mind is my 7th grade/13th birthday party. I had a HUGE crush on a boy name Steve. Cute cute cute, he was! My mom rented the pool at the Y for me to have a big party with a bunch of my friends. We swam and had a great time. Then it was time to open presents. My one friend, also named Erin, got me a carpet square rug. Now that in itself is NOT a good gift for a 13 yr. old! BUT, she told me that Steve was at her house because her parents were friends with his, and he stepped on this rug!!! I freaked out! I had that rug in my room until I was 15! Ha ha! Dumb story! Dumb thing to get excited about! But for a newly minted, hormone raging teenager I thought I'd died and gone to heaven! No pics of that birthday to share, I can't find them. Buried in some box I have yet to unpack since we moved almost 2 years ago. I think I need to get on that!
Instead, I will share these two pictures.
I was OBSESSED with My Little Ponies when I was 3 and 4, so my grandma (our family cake maker) made me a cake with a MLP on it!
This was my 6th birthday. My aunt gave me a tent for my Cabbage Patch doll! I loved that tent, I played with and in it all the time! And yes, that's my CP doll in there. Her birth certificate name is Joyce, after my grandma (suck up!), but I don't think I ever called her that.
Two weeks from today is Aiden's last day of school. I need to get my ducks in a row and get some things planned for us. Aiden has a busy June with a few camps he's attending and swim lessons. After that, it's 2 months of free time, eek!
Welp, it's way too beautiful of a day to be sitting in the house. I'm heading out to weed some flower beds and soak up the sun! Talk soon!
Erin