I saw on IG Shannon post that she is changing up So What Wednesday a bit but I have no idea how she is changing it, so for this week I'll do it 'old school style' and then pick up the changes for my next SWW post.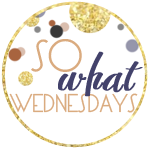 This week I'm saying So What If…
my boys have lost one of their cases full of DS games again and I went bananas and made them take all of their entertainment out of the car so now all they can do for a full month is look out the windows (and probably fight and annoy me even more than I already am about those damn games being lost!). We found Aiden's a month ago when he lost it, hoping we'll have the same luck for Brennan's. Seriously, how do you lose it? A full case full of games! Grr!!
I also made the boys pick up all of their stuff in the house that was laying around and then all they could do for the next hour and a half was read books. No TV, no fun stuff, no playing with toys, DEFINITELY not playing with DS's. So mad at them. And yes, I'm mad at both of them because they both play games out of each other's cases so who knows which one actually lost the darn thing.
I don't remember the last time I cooked a decent meal for the family. All of this time at the hospital has left my house a mess and crappy food in our tummies.
I haven't been very good about taking my glucose level after meals. I am still eating as I should so know my levels are probably ok.
I am excited to have the baby so I can hug my husband tightly again without this giant ball in between us.
none of my maternity shirts are big enough anymore. They're either not long enough or too tight in the belly. Ugh.
Happy Wednesday, all!
Erin